Project:  
www.tutopia.com
Tutopia, a division of IFX Networks, wanted to create a portal for Latin America on the lines of a My Yahoo. The portal would serve as the starting point to the internet highlighting local and international information.
We created a highly scalable technical architecture to handle user personalization, dynamic content and high demand. This was accomplished with an extensively redundant design that allows the site to run on multiple servers simultaneously.
A number of feeds were incorporated from news services and other syndicated content providers such as currency rates, weather and entertainment.
Users could personalize their home page for city and interests, and could perform full text searching across multiple domains such as articles, news, listings for restaurants, entertainment, hotels and more.
We developed an extensive, custom content entry and management system that allows concurrent entries by multiple authors, in different countries.
We deployed the site including functional testing and load testing. Extensive load testing was performed to assure that the site met the high-capacity requirements.
(Tutopia.com has discontinued this strategy and now offers an augmented ISP service.)
Technologies Used:
ASP, COM, MS SQL Server, XML, Content Management, Windows, DT Search.
Elements:
Adaptive Interface uses click-stream for individualized views, Content Management System with Workflow, Data replication, Feeds for syndicated news and other services, Full Text Search, Portal, Relational Database, Scalability, User Personalization.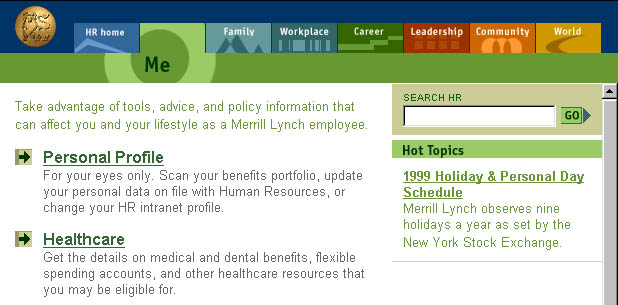 Project:  
Merrill Lynch is one of the world's leading financial management and advisory companies. With 60,000 employees needing access to information on benefits, personal information, holiday schedules, corporate policies, corporate forms, 3rd party forms and over 1700 HR documents in seven languages, Merrill Lynch needed a way to reduce the workload of the Human Resources Department.
We built a Portal that made it quicker and easier for employees to get the information and forms they needed without resorting to personal assistance.
A highly personalized view was dynamically created for each employee, presenting key information, documents and forms they use the most. This view was created based on term of service, type of employment, country of employment, business unit and language spoken. In addition a full text search of the site was provided through the integration of an Oracle Intermedia search engine.
We created a Vignette Story Server content management system to enable the HR staff to publish new materials to the site without any technical knowledge. A noteworthy feature of the content management system is that it allowed the author to specify multiple ways to navigate to the content being posted. The content management system also included an advanced workflow feature that assured compliance with requirements for multiple levels of approval before an article was published.
To get the site up and running quickly, we provided scripts to automate the conversion and reformatting of numerous existing documents making them compatible in with the new site structure. The scripts worked with multiple, document formats and included a testing routine to ensure the accuracy of the conversion.
The HR Portal was architected to integrate with the internal Merrill Lynch IT security infrastructure and was certified for compliance with security policy.
Technologies Used:
Oracle 7.x db, Vignette Story Server, Solaris, Oracle Intermedia search engine
Elements:
Content Management System with Workflow, Full Text Search, Information Architecture, Intranet, Multilanguage capability, Portal, Relational Database, Scalability, Security, User Personalization.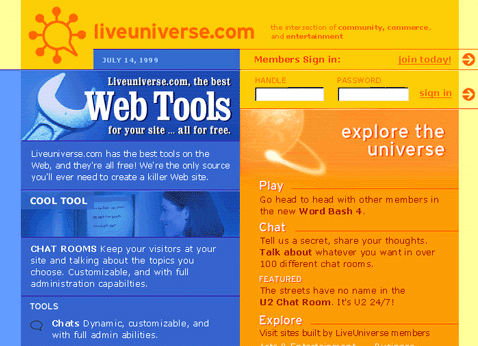 Project:  
liveuniverse.com was created by Rare Medium, one of the top website and intranet development agencies, wanted to expand their business holdings and add a new revenue stream through an advertising-supported, community portal site. The site allowed users to create and manage their own services such as: email, list servers, chat rooms, and discussion boards.
We provided a technical architecture for the site, creating an easily extensible framework that allowed for substantial personalization and easy addition of services. We integrated software and services from a variety of 3rd party providers, maintaining a unified look and feel.
This line of business was discontinued.
Technologies Used:
Java, JSP, MySQL, Linux.
Elements:
Community, Portal, Relational Database, Scalability, User Personalization.