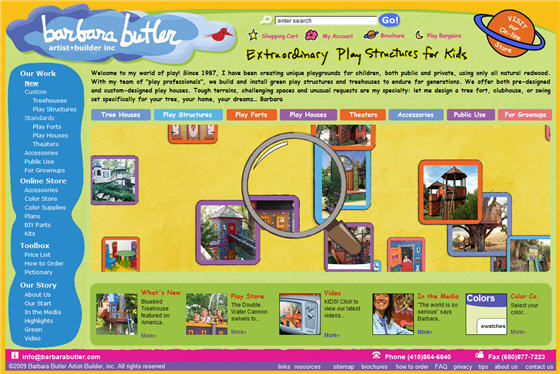 Project:  
www.barbarabutler.com
Barbara Butler has been designing and building kids playhouses, play forts, custom play structures and tree houses for over 18 years. Her luxury treehouses and unique childrens play structures have been featured in the Wall Street Journal, the New York Times, on the Oprah Winfrey Show, the CBS Early Show, and the prestigious HGTV "Modern Masters" show, to name a few.
Barbara Butler wanted to streamline her portfolio and let her customers see more aspects of her work than her current website could show.
408 Group created the site including:
A project browser
Product brochures in PDF format rendered by the Content Management System
Product slideshows
A comprehensive pricelist and specification for each piece
Full text search of the entire site
An illustrated glossary of play structure components and their use
Technologies Used:
PHP, Linux, MySQL, 408 CMS, Acrobat Distiller
Elements:
Content Management, Content Management System with Workflow, Database, Full Text Search.