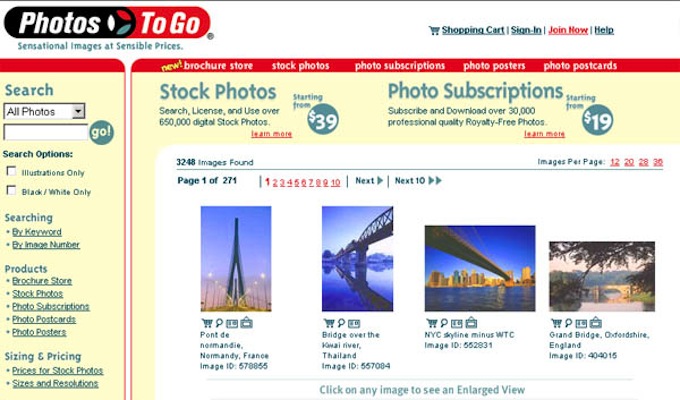 Project:  
www.photostogo.com
photostogo.com is the online division of Index Stock Imagery, a commercial stock photography agency. Index wanted to create an online resource of royalty free and rights protected stock photography for webmasters, graphic designers and small businesses.
We developed a self-service, e-commerce website with a Lightbox and shopping cart. Custom middleware was developed to connect the website to an archive of over 1 million images. Content management tools were developed so a team of non-technical staff could catalog photos, create promotions and monitor site effectiveness.
An optimized text search was created to provide a high degree of accuracy for both layman and expert researchers.
We devised special methods that overcame the inability of web search engines to find and index dynamically generated web pages. Not only did we get pages from the site listed, we were also able to ensure that most of them showed on the first page of the results.
The site has been in operation for over 8years and has undergone numerous modifications and redesigns using the same core technology.
Technologies Used:
C++/ISAPI, ASP, Verity Topic Search, SQL Server, Windows, Cyber Cash, High scalability,
Elements:
Architecture, Content Management, E-commerce / Shopping Cart, Feeds for syndicated news and other services, Full Text Search, Middleware, Scalability.