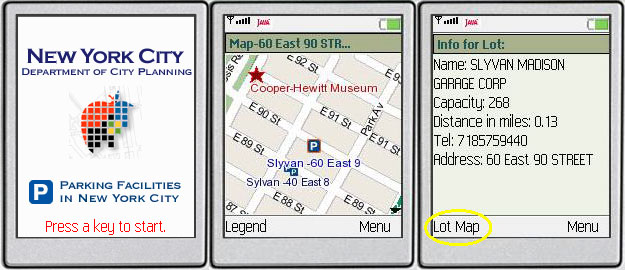 Project:  
www.parkinginfonyc.com
Developed by the Department of City Planning as part of its Parking Information and Demonstration Project, Parking Information for the Mobile Web shows the location of all parking facilities licensed by the Department of Consumer Affairs, as of September 2005, in The Bronx, Brooklyn, Manhattan, Queens, and Staten Island.
This application lists sites in New York City including subway lines and stations, major cultural institutions, government offices, sports and recreational facilities, colleges, hospitals, and other points of interest – each of which can be linked to a map showing nearby parking facilities. Parking Lots can also be located by their proximity to specific addresses and intersections within the 5 boroughs of New York City.
408 Group worked with City Planning to define the solution architecture, use of existing GIS data, development of server, client and web tiers.
Technologies Used:
Open Source GIS, UNM MapServer, PostGIS, Java Servlet, JSP, J2ME, Linux
Elements:
Data replication, Database, Middleware, Relational Database.