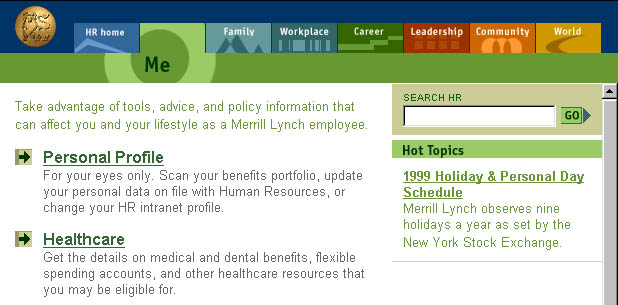 Project:  
Merrill Lynch is one of the world's leading financial management and advisory companies. With 60,000 employees needing access to information on benefits, personal information, holiday schedules, corporate policies, corporate forms, 3rd party forms and over 1700 HR documents in seven languages, Merrill Lynch needed a way to reduce the workload of the Human Resources Department.
We built a Portal that made it quicker and easier for employees to get the information and forms they needed without resorting to personal assistance.
A highly personalized view was dynamically created for each employee, presenting key information, documents and forms they use the most. This view was created based on term of service, type of employment, country of employment, business unit and language spoken. In addition a full text search of the site was provided through the integration of an Oracle Intermedia search engine.
We created a Vignette Story Server content management system to enable the HR staff to publish new materials to the site without any technical knowledge. A noteworthy feature of the content management system is that it allowed the author to specify multiple ways to navigate to the content being posted. The content management system also included an advanced workflow feature that assured compliance with requirements for multiple levels of approval before an article was published.
To get the site up and running quickly, we provided scripts to automate the conversion and reformatting of numerous existing documents making them compatible in with the new site structure. The scripts worked with multiple, document formats and included a testing routine to ensure the accuracy of the conversion.
The HR Portal was architected to integrate with the internal Merrill Lynch IT security infrastructure and was certified for compliance with security policy.
Technologies Used:
Oracle 7.x db, Vignette Story Server, Solaris, Oracle Intermedia search engine
Elements:
Content Management System with Workflow, Full Text Search, Information Architecture, Intranet, Multilanguage capability, Portal, Relational Database, Scalability, Security, User Personalization.